To become popular on social media, aspiring bloggers should pay attention to the need for creating high-quality content. To achieve this, it's essential to consider purchasing special gadgets used by experienced bloggers, people on OnlyFans, content creators, and more. In this article, we present the TOP 5 most important gadgets for shooting high-quality content.

The best gadgets for your blog
We offer an overview of the 5 most important gadgets that will help improve your content. After this, you will be able to determine exactly what may be useful for you.
Modern smartphone with a high-quality camera
Any blog in the media space will require the use of high-quality photo and video materials. This is the basis that is important regardless of the type and topic of the blog itself. You need to take pictures of yourself and your surroundings in order to convey important information to your subscribers as accurately as possible.
Therefore, first of all, you should take care of having a good phone with a camera. It should be easy to use and offer the ability to quickly edit photos and videos. You also need a sufficient amount of memory where you can store and collect content until future publication. It is recommended to pay attention to Apple, Samsung and Xiaomi as market leaders in phones with a good camera.
Microphone for recording high-quality audio material
For those who shoot videos or stories on the street or public places, you need to think about a small microphone. It will help you prepare a good sound, which can then be easily edited or even immediately published on social networks. Keep in mind that microphones are different and it is worth considering the goals. Here are some examples:
small ones with fastening to clothes for home videos or filming on the street in a large crowd;
Large with a tripod, which is suitable for live broadcasts;
standing with a tripod for tables, which is better suited for streamers or online bloggers.
Consider several options to find the right one. Consider sound quality and cost.
Stabilizer
This is a special device that allows you to hold the phone and stabilize the circuit. It looks like a selfie stick, but with more functionality. This is an excellent solution for preparing video material in motion. Often used by travel bloggers or for filming live blogs.
You should choose such a device with an emphasis on your needs. For example, for home filming, you can use simpler options. Those who shoot sports, travel or anything in motion, then choose a stabilizer with the maximum range of functions.
This way you can prepare really high-quality content. It will be much more pleasant for the viewer to watch a video where there are no unnecessary camera twitches and there is a clear cut, but with active movements. Keep this in mind and look through the range of stabilizers available on the market, taking into account your financial capabilities.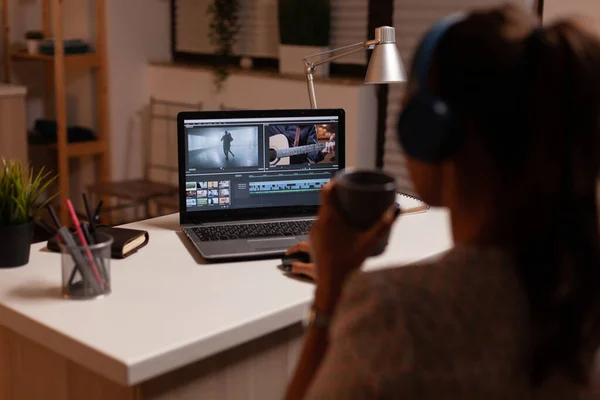 Laptop
For video editing you will need a good laptop that can withstand the use of editors. Most often these are editors from the Addob series, which are used at the amateur and professional levels. The laptop should have enough memory to store all the materials, especially if you are blogging for a YouTube channel.
When choosing a notebook for blogging, you should consider the availability of editing programs. For example, Windows devices have the ability to install free applications. Apple's technology is more serious in this regard, so many high-quality editors are not available for free and an annual subscription will be required.
Drone
Adding a drone to your equipment can be a significant enhancement to your content. While it may not be suitable for every streamer or blogger in a small niche, it can be a game-changer for outdoor shooting. With a drone, you can capture truly unique and interesting videos that are sure to garner many views. Viewers will appreciate the professional approach to content preparation using drones.
The DJI Mavic Air can reach speeds of up to 68.4 km/h in sport mode. However, cruising speed is considered to be 21 km/h. In this mode, in calm weather, the drone can fly for 21 minutes on a single charge.
The flight range reaches 10 km. The height from the take-off point is 500 m, but in fact the drone can soar to 5000 m above sea level. The manufacturer does not recommend flying at air temperatures below zero and warns that it does not bear warranty liability for breakdowns in such weather. However, the DJI Mavic Air was still tested by enthusiasts at low temperatures – everything went smoothly.